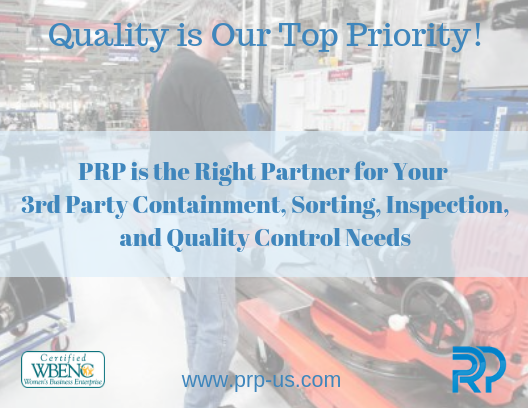 At PRP, we understand the challenges faced by automotive OEM's and suppliers, and we are committed to providing you with the top-notch 3rd Party Sorting & Inspection/Containment services you need to meet these challenges head-on! Having a 3rd Party Containment partner you can count on for professionalism, responsiveness, and integrity is critical. PRP has an unwavering commitment to unparalleled customer service and quality in everything we do. Simply stated - our customers know they can trust us to get the job done right! Here are 5 reasons why you should partner with PRP for your sorting & inspection/containment needs.
1. The Perfect Blend of "Big" and "Small"
At PRP, we provide our customers with the capacity, experience, and depth and breadth of expertise of a "big" company, along with the flexibility and personalized attention of a "small" company. Anywhere across the country, we are ready at a moment's notice to provide you with trained, qualified, and motivated inspectors and supervisors who are prepared and eager to work hard and work well. Our sorting & inspection/containment teams are diligent, organized, and consistently exhibit outstanding attention to detail.
At the same time, PRP promotes and embraces a small company, family culture, free of all the bureaucracy and red tape that hinders many of our peers. This allows us to respond quickly to your needs and customize our approach, processes, and solutions to what works best for each individual customer. We listen to your specific requirements, goals, and constraints and then make it happen!
2. Woman-Owned, With Purpose
Being a certified woman-owned business, PRP qualifies as a "diverse supplier", which helps to enhance our customers' diversity initiatives while also bringing our customers other key benefits including potential tax incentives. The advantages provided to companies who partner with woman-owned and other diverse vendors has been well documented in the automotive industry. At PRP, we focus on diversity in everything we do, which allows us to provide better service to our customers using new, fresh perspectives and diverse, "out of the box" thinking and problem-solving.
3. Low-Cost Operating Structure
Here at PRP, we are very proud of our ability to maintain a low-cost operating structure and reduced overhead. We employ a virtual office setting and other cost-saving initiatives which enhance our flexibility when it comes to both our customers and our employees. We are able to attract and retain superior associates as we provide our employees with a very competitive and extensive compensation and benefits package. All of this results in a highly dedicated, loyal, and motivated team to serve you!
4. Alignment of Goals
For companies like us to truly succeed and maximize quality of service, we need to take steps to ensure alignment of our customers' goals with our associates' goals. One of the ways we accomplish this is through our unique incentive-based compensation model where we pay our associates bonuses based directly on the project outcomes including 100% clean sorts, strict compliance with work instructions, and maintaining safety as our #1 priority! Now, your most critical priorities and objectives are shared by the team serving you.
5. Giving Back
Each and every day, PRP strives not only to bring maximum value to its customers, but also to positively impact the community as a whole through a relentless focus on "giving back". We partner with "Nothing But Nets" to donate life-saving mosquito nets to children at risk of contracting malaria, a deadly disease which claims the life of a child every two minutes. In addition, we work with Homeless Solutions, a New Jersey-based non-profit organization, where our team provides career coaching to homeless and low-income individuals. Philanthropy is a core value at PRP, and there is nothing more satisfying than doing our part to make a difference in the world.